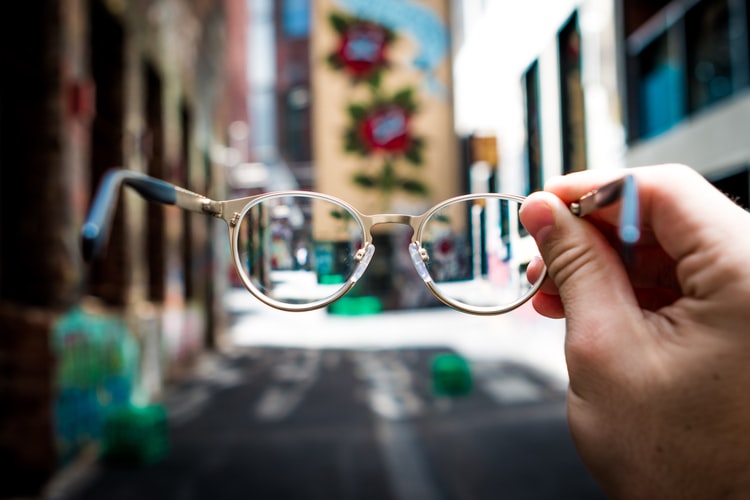 Size doesn't matter! But shape does. So, the next time you're choosing an eyewear for yourself, make sure it complements the beautiful contours of your face. While there is a range of the most versatile eyewear online, it's always better to keep your face shape in mind before purchasing. Uh-oh! Never had the time check what's your face shape? Sweat not! Know your face shape in these three easy ways:
1. Stand Straight in front of a mirror.
2. Take a Lipstick and outline your face on the mirror.
3. The outline is your face shape!
Now that you know what your face shape is, we're here with a quick guide on how to choose eyewear that truly flatters your face:
Oval
There's no frame shape that won't suit an oval face. So if you have one, you're blessed! Whether it's a pair of barely there rimless eyeglasses or whether it's a pair of those oversized eyeglasses, everything is tailor-made for you. All you have to do is just pick what appeals to your style sensibilities.
Our recommendation:
Go for broad frames, especially when you are choosing everyday eyeglasses. Go for a nice wayfarer design to get the perfect cubicle to club look.
Bold frames can be your buddies! Go for those embellished cat eye glasses or the unisex basic hued club master sunglasses. They're just what you need while flaunting the perfect 'pop' look.
Even the slim rim aviator sunglasses will suit your face. They'll accentuate the curvy contours of your face. Go for the dusty gold ones to make sure you're updated with what's trending in the aviator world.
Heart
Heart shaped faces are lovely (like literally!) Wide forehead and high cheekbones can totally work in your favour. You have a ton of eyeglasses & sunglasses to complement the contours. The key is to choose frames that are wider than your forehead.
Our recommendation:
Rectangle frames are your go-to frames. Pick the acetate one if you are looking for something light yet stylish.
Your accessory collection should totally have a pair of wide bottomed wayfarer sunglasses. Own a pair of reflector wayfarer Googles if you hit the beach quite often.
You can also go for those round frames in case you want to highlight other features of your face apart from the cheekbones.
Square
Those angles are angels! (Yes we got the spelling right!) Your angular face has curves right where they should be. You can totally experiment with your eyeglasses! From the curvy frames to the round frames, you have a lot to choose from.
Our recommendation:
Pick those cool wayfarer eyewear if you're all up for some 'square on square' style. If you think it will look odd, think again! You can go for premium acetate eyeglasses in wayfarer style for an everyday upbeat look.
You can also pick thin steel eyeglasses to flaunt the angular features of your face. Go for the super sassy aviators whenever you're heading out. Round
Now to the most conscious people! Round faced people always worry about what hairstyle will suit them and of course, what eyewear will suit them. While you've chosen to let your hair down, you can also choose to play with various frame shapes.
Our recommendation:
Just like square on square, round on round combo is also quite fun. It's a good idea to invest in those round sunglasses when you have a lovely round face to complement them.
You can also go nerdy in broad rectangular eyeglasses. Go for basic blue or black colours if you want your features to stand out.
You can also experiment with clear sunglasses. Not only are they super trendy but they come in curvy square shape that suits a round face perfectly.
Don't forget to pick the best lenses while choosing your eyeglasses. For sunglasses, go for reflectors if you're always by the sea or just plain tinted sunglasses if you're just out for city strolls. So, are you ready to update your eyewear?